Bubble Thing Package Back Front



FAQs

Most questions about the
Bubble Thing
are answered right on the package. Our latest update is shown at left.

1. How easy is the Bubble Thing, really?

It's so easy, it happens by itself! The above photo shows my 4-year-old daughter with a 20-footer. She's just holding her loop open and letting the breeze do it. Kids learn the Bubble Thing quickly, and then enjoy teaching each other.

2. Did we improve our soap solution recipe?

Yes. The one shown at left using BIG Bubble Mix is our favorite; it makes swoopy giants that calve and subdivide before they pop. To stop calving and go for sheer size, try the baking powder version. For light delicate colors, try the glycerine. Important: Joy, Dawn, and Fairy really are the only dish soaps that work. (My favorite is orange Ultra Joy, but the other colors work fine.)

3. Does Bubble Thing really blow the biggest bubbles?

Yes, by far the biggest of any bubble toy.
Compare the brands.
However, having invented the giant bubble sport, we are thrilled and amazed to see big bubble people around the world now creating
bubbles much larger
. In 1995, inspired by the Bubble Thing, my friend Alan McKay started expanding his loops to 12 and 16 and even 20-feet tall, supporting them on fishing poles. He blew a tunnel bubble 114-feet long, and spheres about 16-feet in diameter. Now a few other people can bubble at that scale. Such huge bubbles take knowledge, practice, perfect weather, perfect timing, and patience. Start with the Bubble Thing, then start to
build your own
equipment, and work your way up.

4. Is Bubble Thing good for birthday parties?

Yes, as party favors. Order them
wholesale
. And yes, as a party activity, if the party is outdoors, and there's space for the bubbles to fly. It can be exciting! But be aware that your bubble success will depend on the weather. I recommend that you also prepare a Plan B activity, in case the weather turns out bad for giant bubbles. Test the bubbles first, away from the kids, or they might be disappointed. The same goes for parks, beaches, street fairs, etc.--- When you can't choose your bubble weather, have Plan B.

5. Why are weather conditions important?

The higher the humidity, the more moisture in the air, and the less water will evaporate from the bubbles. They last longer, fly farther. Fog (100% humidity) is ideal. And the cooler the temperature, the less evaporation again. About 40 degrees Fahrenheit is my favorite. And a gentle breeze helps fly the bubbles. I like 3 miles per hour. Don't miss trying in a cool foggy breeze. (You can choose good weather days at
weather.com
.)

6. How ecological is the Bubble Thing?

Pretty good. We offset our carbon emissions---and much more--- by donating to plant
trees
in India, 216,558 trees so far. At 50 pounds each, those trees remove over 6,500,000 pounds of carbon dioxide from the atmosphere annually. Our bubble recipes are biodegradable, our HDPE bottles are recyclable, and the Bubble Thing itself is indestructible. Bubble Thing fans have emailed me saying they've been using theirs for 20 years and more.

7. Do you do bubble shows?

Yes! We've done many shows, parties, interviews, photo shoots, TV ads, print ads, even special effects in feature films. Have soap, will travel. Please email your request to
ds@bubblething.com
.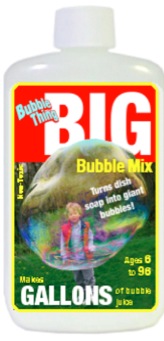 BIG Bubble Store . Wholesale . International . Reviews
FAQs . Blog . About Us . Facebook . Trees . Home

Copyright © 2014 by David Stein Inc. Bubble Thing ® is a registered trademark


BIG Bubble Store . Wholesale . International . Reviews . FAQs . Blog . About Us . Facebook . Trees . Home
The Bubble Thing package includes BIG Bubble Mix to make 2.7 gallons of bubble solution.