Bubble Thing - $6.45

This is the 90-inch open-and-closing fabric loop that started the giant bubble sport. It blows bubbles all shapes and sizes up to 20-feet long and more. Package includes BIG Bubble Mix to make 2.7 gallons of giant bubble juice. Blow double bubbles, bubbles-in-a-bubble, kid-in-a-bubble, and so much more. Ages 6 to 96. Photos . Package & Details

Item CK 4000 UPC 6-94744-24000-8 MSRP $12.95 Polybag 27x5x1" Case (16) 25x9x6" 7.1 lb. .78 cf.

(16) $103.20
(48) $303.40


BIG Bubble Mix - $4.95

Turns dish soap into giant bubbles. Makes 5.4 gallons. This is the biggest-bubbling, lowest-cost giant bubble mix on Earth--- and the quickest. Just stir with water and dish soap and you're ready to amaze your friends and scare your neighbors. Great in all bubble toys BIG and small. Ages 6 to 96. Package & Details

Item CK 4001 UPC 6-94744-24001-5 MSRP $9.95
Polybag 11x4x1" Case (12) 10.5x8.5x5" 3.5 lb. .28 cf.

(12) $59.40
(48) $232.80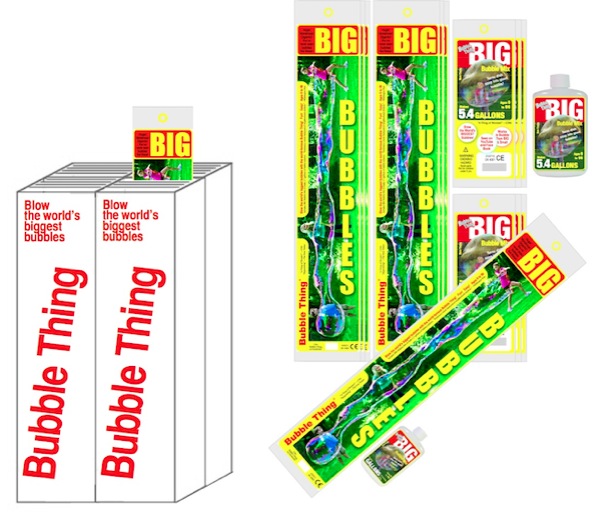 Terms:
Net 30.

2-Case Minimum.

We ship FOB Newburgh, NY 12550.
We drop-ship from Taiwan.

Test reports, videos, photos on request.

Orders and returns need prior approval. Prices may change without notice.

If you are located outside the USA, please see
International.

Display options:

Peg polybags at eye level.
Or make a floor display
of four 12-packs.

BIG Bubble Store . Wholesale . International . Reviews . FAQs . Blog . About Us . Facebook . Trees . Home
Dear friends,

You are planting trees---
For every dozen Bubble Things or BIG Bubbles books you order, we plant a dozen trees through
Trees For The Future.
It's an easy, affordable way for any business to go carbon neutral and stay that way. Join the growing number of companies helping against climate change.
Learn more
.


---David Stein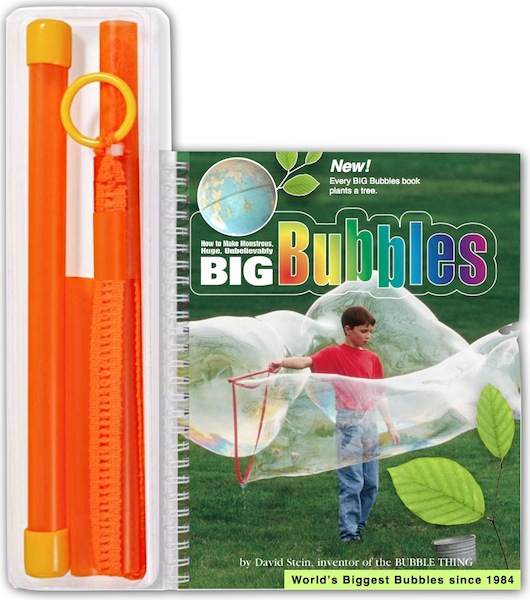 How To Make Monstrous, Huge, Unbelievably BIG Bubbles - $8.95
OUT OF STOCK. Our best-selling BIG Bubbles book (with Bubble Thing attached) has delighted millions of kids ages 6 to 96. Works best with our BIG Bubble Mix.


Item DS 4005 ISBN 978-0-578-17597-3 UPC 0-82532-24005-5
Book 38 Pages, 7x9" Attached Bubble Thing 1.5x3.5x12"
Case (12) 6x12.5x16.5" 10 lb. .56 cf. MSRP $17.95