"A Thing of Wonder!" ---CNN
"Hypnotizing" --The New Yorker
"Entertain a whole backyard of neighborhood children."--The Washington Post

Blow bubbles BIG as you! Blow bubbles BIG as whales! It's easy with our giant Bubble Thing and instant BIG Bubble Mix. Just add water and dish soap, and go bubble BIG! Buy Now Retail or Wholesale Huge outdoor bubble fun for kids, families, parties, fairs. Blow giant bubbles in spring, summer, fall, winter. Blow huge bubble spheres, double bubbles, bubbles-in-bubbles, all sorts of monster bubbles. Slide show. Play "kid-in-a-bubble" or the Popping Game. Draws crowds. Ages 6 to 96. (It thrills toddlers too, they love to chase and pop!)

See our Videos. Meet the winners of our world wide Giant Bubble Contest.

Share the BIG excitement with your friends: Facebook Twitter and Instagram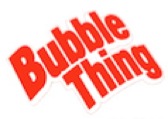 Bubble Thing, the world-famous
BIG bubble maker that started the Giant Bubble Sport. Easy. Ages 6 to 96.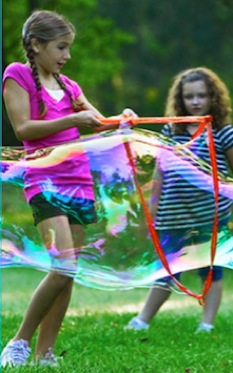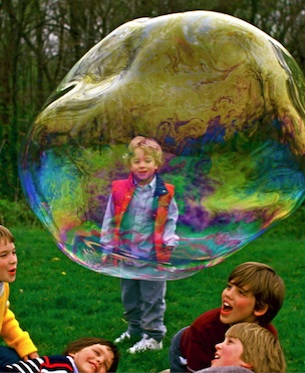 BIG Bubble Store . Wholesale . International . Reviews . FAQs
Blog . About Us . Trees . Home
Blow the World's Biggest

BIG Bubbles!